Katrina Battle
The Perfect-Brew
---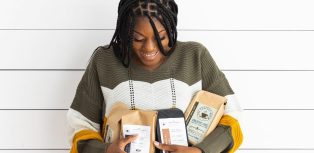 Like many people, when Katrina was a college student, she discovered her passion for making and drinking coffee. What's more important is that she also has a passion for helping and serving others. Put that together and you have her mission: "Coffee is my fuel, but serving other is my passion."
Theperfectbrew was launched by Katrina Battle in October 2020 after much research and taste testing. The Fuel Collection includes, Essential Fuel, Creative Fuel, Focus Fuel, Fundamental Fuel, and even an Unleaded Fuel. She also offers several popular teas, just introduced a line of lemonade refreshers, and serves an amazing cold brew!
Katrina attends the Lawton Farmers Market, various local events, and sells her products online at
https://www.theperfect-brew.com/
offering unique coffee blends in whole bean, ground, and K-cup options. She hopes to expand the business and have a coffee trailer soon. Starting her own business has been challenging but also exciting. "The greatest benefit of owning my own business is the ability to be my own boss, flexibility, and the ability to one day create jobs," said Katrina.
Entrepreneurs are brave knowing they may fail but give it their all. Katrina said, "My advice would be to not give up because the difficult times are only temporary and to build a support system of other small business owners who will help keep you encouraged."
It's been a pleasure getting to know Katrina. Please help support this woman-owned business by liking her Facebook page, sharing her story, and Fuel your day with The Perfect-Brew!
Melissa Wedman
Mollycoddled Hash Slinger
---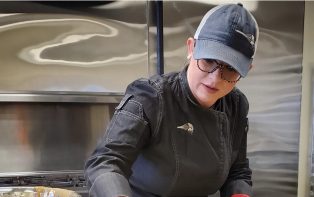 Melissa Wedman got into the business of making candy in 2013 when she began creating treats for gifts she gave to friends and family in memory of her father.
When they launched into a commercially producing artisan candy company in 2016, she used the name Mollycoddled Hash Slinger, a name she has formerly used for her blog. "Mollycoddled Hash Slinger basically translates to 'Spoiled Chef,'" says Melissa, the Head Sugar Slinger.
In 2020, business slowed down and since they didn't have a store-front, they got creative and began offering local porch drop-off delivery. In 2021 they were able to open their flagship retail store in northwest Oklahoma City. It has been wonderful to watch Melissa's business grow and thrive. If you love caramels (they have so much more than that) check out her website.
Carrie Wasson
Realty Network
---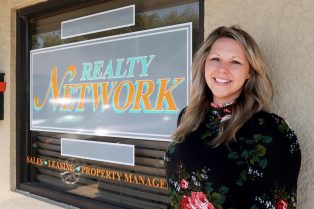 Carrie Wasson, owner of Realty Network, started her real estate career 16 years ago as an assistant to her grandmother who was a broker. Carrie learned so much from her grandmother and after her retirement, Carrie was asked if she would like to purchase the company. Not imagining doing anything else, she took a big leap from being a branch broker to owner.
REI Women's Business Center had the pleasure of assisting Carrie during this period of re-evaluation as she was looking at her newly acquired business from different angels.
"Being a small business owner is not for the faint at heart", said Carrie. "If you lean into the growth and allow yourself to be challenged, it is worth it! The relationships I've made through business have been life transforming. It's all about serving and loving people! We get to forge a new trail and create an environment that is tailored to both us and the needs of our community. What's better than that?"
When Carrie was ready to expand her office, she reached out to REI WBC again to discuss small business loans. REI Oklahoma's Business Lending team assisted Carrie with a loan for her expansion and she is on track to add two additional staff members after the expansion is completed this fall.
"Having the freedom to serve our clients with the values and level of care that we embody means everything. We get to practice the golden rule in all we do here without a corporate boss pushing us for sales volume or property turn arounds. We partner with our clients to reach their goals toward homeownership, walking with them through every step."
Learn more about this growing business on their website.
Christie Allen
Sweet Lee's Barbecue Sauce
---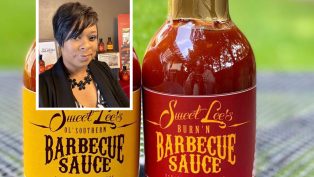 We were very happy to meet Christie Allen at a Women's Business Center workshop in Lawton, Oklahoma where she grew up watching her father, the late Robert Lee Allen, develop and master a signature sauce through trial and error. Christie desired to build upon her father's love of cooking by making Sweet Lee's Barbecue Sauce a household name.
In 2016, she began her journey to make this amazing, secret sauce available to the world. She attended entrepreneurial classes and received resources to start her food business. In 2018, Christie introduced Sweet Lee's to the market. We celebrate her drive to make her dream come true and build upon her father's legacy. Christie is a joy to be around and we are happy to be a small part of her entrepreneurial journey.
Want to get your hands on a bottle of Sweet Lee's? The sauces are available in a few local store and shops in the Lawton area, and online at www.sweetleessauces.com. They are a Made In Oklahoma company but will ship to you! Make sure to follow them on Facebook and Instagram.
Jill Rhodes
Miss Mary's Market
---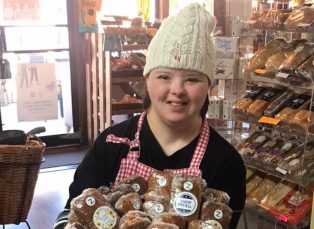 Miss Mary's Market is the only grocery and produce provider in the downtown district of Okmulgee.  From it's opening, Miss Mary's has become a favorite destination for shoppers and visitors alike. The Market offers many "Made in Oklahoma" products with hopes of adding more in the future.  They provide fruit, vegetable and sandwich trays to individuals and offer catering on a limited basis. Their produce is top quality with dairy, bread, coffee, and seasonal flowers and plants available. They deliver to shut-ins and the elderly as well as to shops, schools and businesses throughout town.
Miss Mary is the 32 year old daughter of Rick and Jill Rhodes. She has Down Syndrome. Vocational opportunities were becoming limited for Mary and her parents were searching for a "purpose" for Mary without having to commute to Tulsa or Oklahoma City. With limited reading and fine motor skills as well as a speech impediment, possibilities for Mary were scarce. But determined parents are not to be thwarted!
Mary is the delightful marketing spokesperson for Miss Mary's Market! She is the face and passion of this establishment. Her responsibilities include, but aren't limited to, greeting customers, bagging and stamping (decorating sacks), stocking, and prepping salads and veggie cups. Mary can often be seen in their cute little red electric car delivering lunches and snacks throughout the community with her mother or sister, Sarah.
Their 5 year goal is to employ and train others with developmental delays and act as a vocational training site for such. The long-term goal is to change community perspectives toward people with disabilities. Miss Mary's Market has proven to be a huge asset to the community and continues to expand. Be sure to stop in at 114 West 8th Street and say hello! You can also follow them on Facebook at facebook.com/missmarysmarket, browse online at www.missmarysmarket.com and call 918.752.7070 during operating hours to place an order for local delivery, pick up, or curbside delivery.
Brandi Burkhalter
Burkhalter Family Farms
---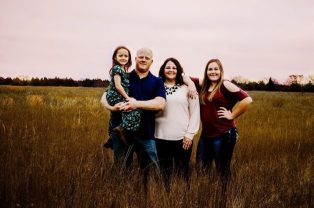 Some of our fall favorites include football, cozy sweaters, fire pits, and pumpkin patches. Platter Flats Pumpkin Patch, located in Calera, Oklahoma, is way more than pumpkins. They have an outdoor event space, provide the perfect place for birthday parties and private events, and of course have a pumpkin patch with a variety of pumpkins and gourds. The Veteran and Native American owned company hosts outdoor movie nights, Christmas Market at the Farm, and have several kids' activities such as hayrides, a hay tower, pumpkin bowling, and a hay maze. Inside the barn you'll find handmade crafts, candles and other seasonal merchandise for sale.
Brandi and Guy Burkhalter created Burkhalter Family Farms to provide new and fun activities for the community while showing their children how to work hard to accomplish their goals. Starting from nothing but dirt and weeds, they planted 20 acres of pumpkins and gourds, and built a custom facility on the property. Their advice to other wanting to start a business is "If you have a goal of starting or opening your own business, you won't know until you try.  There will be obstacles, but you have to be resilient. Don't ever let anyone tell you can't.  If they do, let it be what drives you!"
The pumpkin patch opens to the public on October 2nd. You may visit Platter Flats Pumpkin Patch at 254 Platter Flat Rd. and make sure to follow them on Facebook to keep up to date with all that's going on at the farm and new seasonal offerings in the spring and summer. Visit https://www.facebook.com/platterflatspumpkinpatch/ to follow.
Melissa Bigger
Thread Lightly Studio
---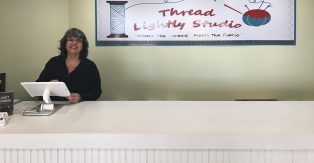 Melissa Bigger's first job was in a fabric store and she always wanted to own her own store. Four years ago, she opened the Thread Lightly Studio, located at 1600 S. Wood Dr. in Okmulgee, Oklahoma.
Thread Lightly Studio is a friendly neighborhood quilting, fabric, sewing and Long-arm shop. They sell fabric, notions & patterns, provide classes to teach sewing in their work area, and offer Long-arm Machine Quilting services. They focus on teaching the life skill of sewing for beginners or those wanting to brush up on their skill, and they offer all the supplies you need. They also have an Online Store which can be viewed HERE.
Her advice for future entrepreneurs is "Know what all the fixed expenses will be and get a good CPA." Follow Thread Lightly Studio to see all the fun projects they are working on and new fabrics, tools and more!
Jennifer Mussett
The Classy Collective
---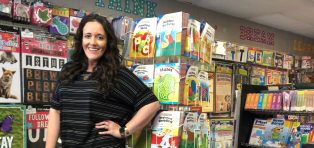 The Classy Collective carries a full line of decorative and educational products for use in the classroom or at home, spirit wear, masks and small gift items. Jennifer Mussett, a former educator, has always had a passion for creating a welcoming, well-coordinated learning environment. She now is able to help others find the materials that they need, for the traditional classroom or home-learning.
Jennifer attended some REI WBC workshops during the startup phase of her business. As she continues to grow, she is introducing new inventory to the store including small gift items for teachers and coworkers, educational toys and games that are great for kids' birthdays, and other gifts.
Stop by and check out her new store at 318 W. Main Street in Downtown Durant. And make sure to follow her on Facebook for updates!  www.classyslassroom.com
Claudia Chambers Beach
Country Girl Jam
---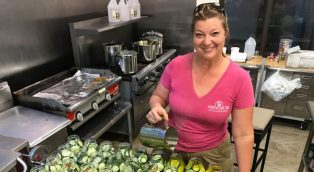 Country Girl Jam by Kayterra Farms, featuring Old-Fashioned gourmet jams, pickles and pickled items made with all natural ingredients was created by the husband and wife team of Bill & Claudia Beach. Claudia, an Oklahoma native grew up growing and preserving food on a small farm in southeastern Oklahoma with her parents. In 2009, she and her husband bought a small farm and they began making gourmet jam and jellies in the summer of 2014 and selling them locally. It wasn't until demand for their products in 2016 exceeded the ability to produce them… did she start to think of this as a real gourmet food business.
Claudia now leases the REI Commercial Kitchen full time, can do private label manufacturing and foodservice, and was honored in 2018 with the Rising Star Award from the Choctaw Nation. We are excited to hear their business story!
Kim Isaac
Engraved With Style
---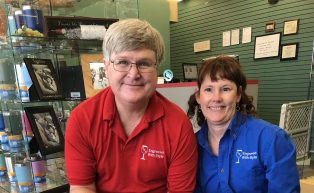 Engraved With Style in Lawton, Oklahoma is owned by Ken and Kim Isaac who have lived there since 1993, when Ken was stationed at Fort Sill. Upon his retirement, they opened Infinity Computer Services in Lawton. After two decades in the IT industry, they looked for a new venture that would let them use their creativity. After a lot of research and talking to a lot of people, the Isaacs discovered a need for engraving services, so Engraved With Style was the answer.
They create personalized gifts, awards, trophies, name tags, wedding items, holiday items, engraved cups and so much more. Their focus has always been on customer service and that hasn't changed.
The Isaacs came to REI Oklahoma to fund their new business venture. Kim also attended several workshops hosted by REI Women's Business Center, and continues to do so to grow the business and network.
"Working with your spouse isn't for everyone, but we make it work," said Kim. "Really do your homework, form a realistic business plan, and use every available resource to help get started" is her advice to future entrepreneurs.
Stop by for a visit at 2322 W. Gore Blvd, Lawton, Oklahoma and be sure to follow them on Facebook to check out their latest creations!  www.engravedwithstyle.com
Linda Beguin
Over The Fence Farms
---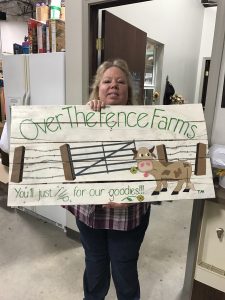 What began as a hobby making pickles, has now turned into three successful businesses. In July 2012, Linda and Jerry Beguin opened Over the Fence Farms in Enid, Oklahoma. REI Women's Business Center assisted with strategies for their growth and day-to-day operations. The company developed quickly while housed in the Business Development Center at Autry Technology Center growing to employ 7 and have their products in more than 30 retail stores by the end of 2013. Today, they offer a variety of products which can be found online and at various retailers, operate Spotted Cow Packaging, co-packing service and Barn Door Gourmet, and online business, and have plans to double their manufacturing and co-packing facility as well as number of employees. For more info on this prosperous Oklahoma company visit http://www.overthefencefarms.com/
Laura Ransbottom
PF Unlimited
---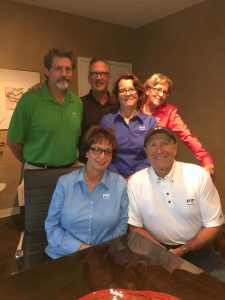 Laura Ransbottom has been a client and friend of the Women's Business Center since we started serving the Tulsa area. PF Unlimited in Tulsa specializes in promotional items, printing, corporate apparel, warehousing, graphic design and more!
Founded in and locally-owned since 1962 in Tulsa, Oklahoma, PF Unlimited enjoys the longevity afforded to only those companies who remain consistently client-focused and can be repeatedly relied upon to provide quality products and creative solutions on budget and on schedule. With a comprehensive suite of customizable client services including procurement, production management, graphic design, forms management, warehousing, inventory management, eSolutions, branded online company stores, fulfillment, reporting, and distribution/logistics systems, PF Unlimited is a single-source printing and promotional marketing supplier delivering value across enterprise disciplines including Management, Marketing, Procurement, Human Resources, and Finance.
Visit www.p-funlimited.com for more info.
Leah Wietholter
Workman Forensics
---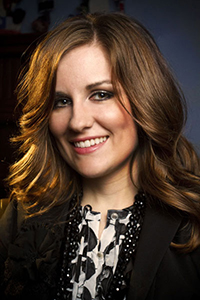 Save for the 19th century pipe and monocle, Leah Wietholter is a modern day Sherlock Holmes. As a Certified Fraud Examiner, licensed private investigator, and owner of Workman Forensics in Tulsa, Oklahoma, Leah Wietholter solves the mystery of the missing money for her clients. And as with most great adventures, Leah's began with humble means and great potential.
While working for the Federal Bureau of Investigation, Wietholter discovered an interest and talent for a profession rarely ventured by women: forensic accounting. Following employment with the FBI, Wietholter worked in public accounting for two years further specializing in this field as a Senior Certified Fraud Examiner. With nothing but invaluable experience and determination, Wietholter developed the concept for Workman Forensics, and within three months, the business was up and running in an appropriately unique office on 15th Street.
A participant and guest speaker with REI Women's Business Center workshops, Wietholter loves being an entrepreneur in Oklahoma and actively participating in the community by volunteering with non-profit organizations such as Junior Achievement of Oklahoma and the Resonance Center for Women. Wietholter also serves as President for the Tulsa Chapter of the Association of Certified Fraud Examiners, a member of the ACFE Chapter Awards Committee and a member of the Association of Certified Fraud Examiners Advisory Board.
During 2012, Wietholter was the City of Tulsa Mayor's Commission on the Status of Women and the Tulsa Women's Foundation Pinnacle Award recipient for business/corporate. Workman Forensics was nominated for both the Bixby Chamber of Commerce Small Business of the Year and New Business of the Year awards.
To learn more about Leah's successful business, visit www.workmanforensics.com.