The mission of REI Women's Business Center is to assist Oklahoma's enterprising women wanting to explore the opportunities of starting or expanding a business. We also love to celebrate the accomplishments of women business owners, which is the focus of our annual gala event, Diamonds & Dreams. The fifth annual event, presented by REI Oklahoma, will be held at the Tulsa Country Club on June 9, 2016, at 6:00 p.m.
The evening begins networking and a silent auction with items representing Oklahoma businesses. Featured speaker is Whitney Reynolds. Whitney is an Emmy nominated talk show host in Chicago, Illinois. Whitney produces a program that is dedicated to tough topics, inspiring viewers and provoking positive change. The Whitney Reynolds Show educates, motivates and makes a difference, one topic at a time. What started as an online talk show, The Whitney Reynolds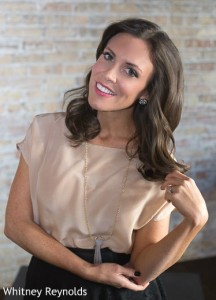 Show gained momentum quickly and moved to NBC within its first year. In 2012 the show made strategic changes, which included a move to PBS Stations in Chicago and The Quad Cities. This year the show gained a weekly night spot on LAKE PBS in Chicago and also signed with the Tribune Content Agency. Whitney contributes on "The Weekly Show" on 103.5 KISSfm/ 95.5 BIG/ 93.9 Myfm with her segment, "Whitney's Women". This segment spotlights female entrepreneurs who give back.
Individual tickets for Diamonds & Dreams are $75 per person.  Tickets are AVAILABLE ONLINE HERE.  For more information about this gala event or how to BECOME A SPONSOR, contact Dr. Barbara Rackley at 800.658.282.
Our primary focus is to provide quality business training opportunities, access to capital, resources, referrals and technical assistance to support women entrepreneurs.
Approximately 150 training workshops and networking events are offered annually throughout the state. We provide training on a variety of business topics to help women become more successful.  Topics include entrepreneurship, financing, marketing, business planning, ecommerce, social networking, business taxes, website development, and more. View our calendar…
Regular networking events provide business owners a place to share ideas and resources and foster business to business relationships. REI WBC clients also receive free business counseling and publicity through REI WBC marketing efforts. Contact us  if you would like to schedule an appointment.
Whether in the idea-stage of starting a new venture or in growth phase of a well-established company, REI WBC is here to help and ready when you are.