SW OK Women's Summit
Cameron University CETES
2800 W Gore Blvd.
Lawton, Ok
73505
Map and Directions
Date/Time:
September 11th, 2019Start Time: 8:30 am
End Time: 2:00 pm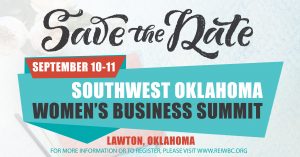 We hope you can join us for the Southwest Oklahoma Women's Business Summit in Lawton!  This two-day event is designed to encourage, support, and equip women in business throughout southwest Oklahoma.  Learn from high-quality business leaders on a variety of topics, network and gain exposure for your business, and cultivate profitable business connections. Registration begins at 8:30 am, followed by two breakout sessions and a keynote lunch. The day will wrap up at 2:00 pm following a B.A.I.L. session and door prize drawings. Full agenda will be posted soon.
Breakout Session 1: Maria Elena Duron, Grow with Google, will show you how to get a free Business Profile on Google Search and Maps so you can engage with customers or find new ones. You'll learn how to update your profile, add photos or offers, see your followers from Google Maps, respond to customer reviews to build loyalty, turn on messaging to help customers get in touch with you easily, explore insights to see how customers are finding and engaging with your Business Profile and how to create a free website to help tell your business' story online.
Breakout Session 2: Women in Business panel featuring SW OK women business owners.  We will have Q&A, time to talk about their best practices, use of technology, and marketing to drive business growth. The panel will consist of:
Joyce Rosario - The Brow Parlor and Rose Rock Spa - Lawton
Sidney Tyner, The Enchanted Door - Altus
Vera Oldham - The Silver Spoon & Atlanta Bread - Lawton
Amber Malcolm - The Shabby Chick - Duncan
Mary Graham - Children of Joy - Lawton
Keynote Lunch Speaker: Robbie Gilbert - Great Plains Investment Professionals - Elk City
Keynote topic - YOLO! - Robbie has been an Investment Advisor for 25 years.  She owns Great Plains Investment Professionals, Inc. located in the Great Plains Banks throughout the state where she manages $70 million dollars. It's been her mission during her professional life to concentrate on educating women how to make better financial decisions.  She is a certified coach, speaker and trainer with the John Maxwell Team and has also been involved with customer service training and education for businesses.
The afternoon will be an optional B.A.I.L. session from 1:00 to 2:00 pm. No matter what your business idea or ambition may be, you need a "BAIL" team of experts on your side.  Banker, Accountant, Insurance, Lawyer: a team of professionals who can advise and guide you in some of the most important aspects of starting and managing a successful business. Have some questions? Write them down and make plans to speak to a B.A.I.L. team member!
Cost of the summit is $40.  Breakfast, lunch, and swag bag are included. When you register for the Summit, you're also invited to the FREE networking evening on September 10th. Cash bar optional, and appetizers will be served.
September 10 - Free Networking Evening
September 11 - Women's Business Summit
Early Bird Discount May 1-31: $35
Regular Admission June 1-August 31: $40
Late Registration September 1-11: $45